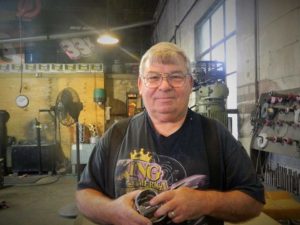 In 1988 I began racing after buying a racecar on Memorial Day. Twice I competed at Riverside and starting in July through the end of the season you would find us racing at Lakeside Speedway. I had crossed the fence from race fan to race participant. Being a rookie, one night in hot laps I blew up a fantastic motor taking the checkered flag, did not know what I had but how that motor screamed in 3rd gear, until it went Boom!
Now I needed a motor to make it the next week, fortunately, my Brother-in-Law, Mark Miles worked at Bill's Performance Center. They built motors for David Perkins and Kerry Davis. Now they were building a motor for me. What a great crew Bill Hamlin the owner and a TWA mechanic, Mark Miles, Don Burlington, and Yancy Shephard. Yes, from this little shop came Burlington Engines and Yancy's.
What is interesting is Mark Miles died from a heart attack but prior to the heart attack he had Thyroid cancer. Bill Hamlin is now fighting cancer and Don Burlington is fighting cancer. Back in 1988 the best at porting heads which was legal then was Don Burlington. He built a set of heads that were dynamite for my motor. Don had a way of describing and teaching about motors and we developed a life-long friendship.
Last week discovering Don was in hospice I contacted his daughter Lisa to get his telephone number. Over the years I had lost his number. Somehow from my first racecar to today my family and the Burlingtons' have been placed together in this life. That is a good thing, might say that is a great thing!
I gave Don a call and two hours later we were getting off the phone. As I quit racing after the 1994 season and became an official, Don started his own shop and stepped away from drag racing and moved into circle track racing. Burlington Motors have powered several to championships specifically Nic Bidinger and Aaron Marrant. If I had a question about a rule, changing a rule, or how something worked with an engine it was Don I would call. There were times I was at work and made the call and had to find a room to continue the conversation well past my lunch period. Don was thorough very thorough and patient, he wanted to ensure I understood.
Don's favorite track is Lakeside Speedway. I-35 Speedway is a close second and he appreciated the Johnson's offering him a suite last year if he could make it up, unfortunately he was too sick. He appreciated what Lakeside has done for him and his family. He says thanks for everyone letting him in free. In fact, he appreciates what the racing community has done for him and his family from bringing food to the family to helping with bills.   After all we are his family!
Don understands racetracks and running them as a business. Racers complain about the purse, the rules, track is too dry, track is too wet, track is too rough, etc. It is a business first and foremost and as for officials he understood their job is not easy and people are never happy with them.
Now back to how close our families have been. Don's grandchildren live next door to my parents. The infamous twins, Jake and Ellie, Don's son "Little Don's" children. They are now 3 years old. One day a week Don and Sharon watch the grandchildren, getting to spend valuable grandparent time with their grandchildren. Because of Don's condition, Don gets a head start to a rail to lean on and tell Jake and Ellie goodbye. This particular day, Jake goes running out, sees his grandfather, stops and goes back in the house and brings out a Bible and hands to Don. Don asked what is this for and 3 year old Jake states "read It". That my friends is a powerful statement from a 3 year old, Wow, Don recanted that story to me and my eyes were instantly moist with joy!
So many Hall of Fames get enamored with racecar drivers, they fail to look behind the scenes and see the people that make the sport move, make it so we have racecar drivers, make it so we have a sport, make it so drivers can compete. Don Burlington is someone who without his help several of us who raced would never have made the racetrack. He truly is a person behind the scenes helping move the sport forward. Today we are inducting a behind the scenes Hall of Famer Don Burlington. Congratulations!